Custom iPhone 11 Cases for Father's Day
Custom iPhone 11 Cases for Father's Day Offer Immense Options
Custom iPhone 11 cases for Father's Day can be the perfect option for those looking for the best gifts. Father's Day is very soon, and many of us want to find the best gift. It was founded by Sonora Smart Dodd and celebrated on the third Sunday of June for the first time in 1910. The celebration was said to be originated from a memorial service held for a large group of men who died in a mining accident in West Virginia. Our father has a very special place in our lives. Fathers first come to mind asking for help in difficult times. We consider that custom iPhone 11 cases are the best option for fathers because of their indispensable places in our lives. Why?
Why are Custom iPhone Cases for Father's Day the Best Option?
- Genuine leather iPhone phone cases represent nobility, elegance, and durability. 
- Premium leather, like fathers, gets a more noble look over the years. Genuine leather goods suit fathers very well. Custom iPhone 11 cases for Father's Day are generally very affordable. Le Marche Leather offers Snap-on and wallet cases in carefully selected colors for custom iPhone 11 leather cases for Father's Day. 
- A custom iPhone case is the perfect gift for fathers. Your father will always carry this case with iPhone and see him dozens of times a day. What another gift could your father see more than a custom iPhone case during the day? 
- Heat-pressed foil monogramming leather makes the iPhone 11 cases very eye-catching. Writing the initials of your father's name on the leather case will make the gift unforgettable. Le Marche uses different types of leather such as pebble-grain, floater, suede, and nubuck in the production of custom iPhone 11 cases for Father's Day.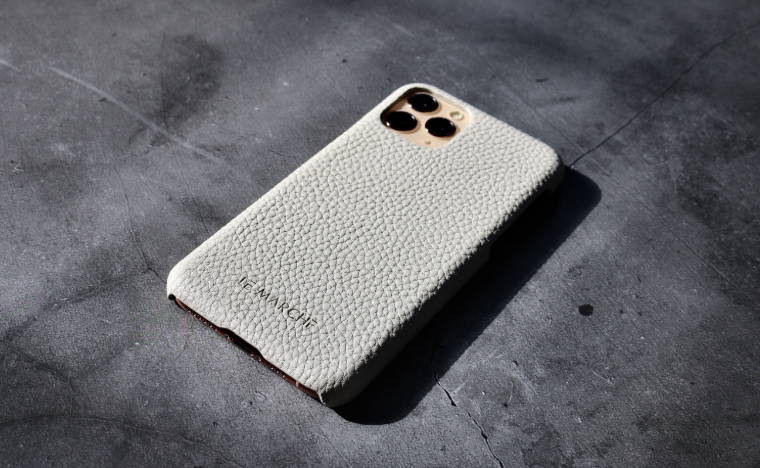 Marche Leather offers the best customized iPhone 11 cases for Father's Day.
How do We Express Our Respect for Our Father?
Although many people have similar feelings, some people express this feeling more beautifully. The love of the father is very well expressed in the following sentences.
 - I talk and talk and talk, and I have not taught people in 50 years what my father taught by example in one week. (Mario Cuomo) 
-The quality of a father can be seen in the goals, dreams, and aspirations he sets not only for himself, but for his family. (Reed Markham). We believe that Le Marche offers perfect custom iPhone 11 cases for Father's Day. 
 -A father is neither an anchor to hold us back nor a sail to take us there, but a guiding light whose love shows us the way. (Unknown) 
-The older I get, the smarter my father seems to get. (Tim Russert) As we have mentioned earlier, custom iPhone 11 cases, like fathers, get a more noble look over the years. Le Marche offers the best customed iPhone 11 cases for Father's Day. Heat-pressed foil monogramming will allow you to customize your iPhone 11 cases. 
-My father did not tell me how to live. He lived and let me watch him do it. (Clarence Budington Kelland) 
-It's the courage to raise a child that makes you a father. (Barack Obama) 
What we become depends on what our fathers teach us. (Umberto Eco)My father gave me the greatest gift anyone could give another person: He believed in me. (Jim Valvano). Le Marche provides you the chance to give the best custom iPhone 11 cases for Father's Day
Le Marche Leather is the Story of Optimism and Inspiration
The vision of Le Marche Leather emerged when three dedicated friends came together to inspire and nurture the human spirit by providing everyone a canvas for self-identity and self-expression. Le Marche Leather was born from a love and passion for leather and transforming a material into something meaningful. With the help of leather artisans, veterans, and foreign designers, Le Marche Leather has become one of the high-quality brands that achieve new qualities of elegance in the mobile lifestyle of people around the world. Simply visit our website, choose the best custom iPhone 11 cases for Father's Day, and do let us know so you can have your personalized iPhone cases. 
 Le Marche handcrafts premium leather accessories to bring sophistication to your mobile lifestyle. With an all-in-one vision, provides leather iPhone cases that are durable, elegant, fashionable, and functional. Le Marche is striving to serve you the best customized iPhone 11 cases for Father's Day and card holders. Our sleek, modern, and luscious iPhone 11 Snap-on case designs combined with personalized options makes a statement wherever you go. Extraordinary should not be expensive, but a standard. Le Marche Leather has created its own style, and now we are building a community.
 Follow us on YouTube, Instagram, and Facebook. 
 Click here to see Le Marchê Leather collections.
Leave a comment